Social media marketing. You know the basics.
Make a Facebook page, tweet, snap a pic for Instagram. Boom. Done. And you understand the benefits of a dedicated place for customers to interact with your brand.
So, why would you need to worry about social media management? What is it anyway?
Imagine this: what if you could eavesdrop on every conversation about your brand that's happening right now online. Sound like a super power?
Well, good news – it's not. Social media management let's you pick up online conversations about your brand so that you can draw conclusions and take action.
A great social media management strategy can help you do the things that make a major difference – from putting out fires before they start to finding influencers to market your product. That's why you need to know what social media management is and why it's important.
That's why this article will tell you:
What social media management is and why it's important for your brand.
How to find out which social media management tools are right for you.
What a social media manager is and what skills they need for success.
What is Social Media Management and Why is It Important?
Let's start with the basics:
What is social media management?
Social media management is the act of monitoring and responding to posts and discussions happening in real time across social media platforms and other social gathering places online.
Social media management includes compiling, listening, analyzing, and engaging with mentions. If your business has an online presence, your marketing and customer outreach strategy can benefit from great social media management.
Another way to think of social media management is as the backend of your social media strategy. Yes, you have social profiles. You post content, run advertising, engage with your community, and conduct customer service across multiple platforms.
Social media management goes one step further and let's you listen to customer conversations happening beyond your branded profiles.
What is social listening?
Social listening is one of the more confusing aspects of social media management. Social media listening is identifying trends and overall sentiment related to your brand. The difference between social listening and social media monitoring is the scale.
Social media monitoring is when you look at individual mentions. For example, one customer tweets that they don't like your product. You read that tweet and respond with a public apology and offer to resolve the issue in private.
Social listening is recognizing that the complaint was not isolated. You realize that the problem is trending. Your product seems to have a genuine defect.
Instead of responding to individual mentions you decide to address the problem by announcing that you're company is taking steps to resolve the issue internally.
For example, Apple gets a complaint about a swollen battery in a new iPhone 8 on Twitter. They handle the response. Perhaps there are two or three more that day. All seem like isolated events. That's social media monitoring – fielding one complaint at a time.
But let's say Apple has a strong social listening strategy as well. They notice that when they track conversations about their new product online there are certain words that are dominating the conversation: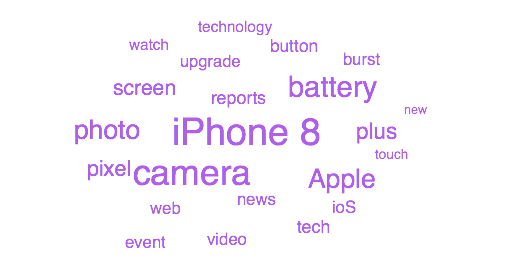 The word "battery" is trending. When they start to look at individual mentions including the word battery, Apple notices that the conversations are about swelling batteries in the new iPhone 8. They can see that the swollen batteries are not isolated issues but rather a more general model defect.
Why is social media management important?
Social media management is important because it lets you know what people are saying about you – good or bad – in real time online, giving you insight in how to react and respond.
Remember when "word of mouth" was a thing? Well, it still is. A long, long time ago, before social media, a customer would tell her friends, mother, and work colleagues about how much she loved or hated your product.
You could count the number of people within her sphere of influence on your fingers.
Now, she can tell hundreds of people that she may not even know how much she hates or loves your product. She can write reviews, she can comment in public forums, and she can interact with your brand before, during, and after her purchasing experience.
The upside for you? You can now know what she's saying to whom, and you can join the conversation as it's happening.
If you're not listening to what she's saying online, you're missing out on hundreds of marketing and customer service opportunities.
Opportunities that could not only make her experience better, but her entire audience's experiences as well.
Here's what social media management allows you to do:
Monitor Brand Awareness
Gauge Customer Sentiment
Incentivize Positive Engagement
Address Crisis Situations
Analyze Customer Demographics
Conduct Competitor Research
Track Industry Trends
Identify Niche Influencers
Great social media management strategies allow you to tackle customer engagement in all its forms – good, bad, and ugly.
What is a social media management tool?
One of the more harrowing choices you'll have to make when deciding your social media management strategy is which listening tool is right for your brand. But let's start from the beginning.
What is a social media management tool?
A social media management tool is software that captures conversations about a topic or profile of your choice and stores them in one place for you. Often, the tool will organize the data for social listening and analysis purposes. You can then draw insights and take action within the tool.
Unamo Social is a social media management and monitoring tool. To illustrate how some tools work, we will use our tool as an example. Unamo Social searches Facebook, Twitter, Youtube, and Instagram for public mentions related to a keyword of your choice.
In overview mode, you can see a chart that will show you how many times your keyword showed up in public mentions on any given day over a specified time period.
The tool allows you to track:
Trending Topics
Sentiment
Demographics
Influencers
Individual Mentions
Before you choose a social media management tool, it's best to decide which social platforms you want to track and what kind of insight you'd like to have into your topic of choice.
What is a social media manager?
A social media manager is the person who does all the compiling, reading, analyzing, and engaging with any mentions about you online, essentially implementing all aspects of your social media management strategy.
The person is dedicated to undertaking these tasks, and knows how to use social media monitoring tools to get the job done.
Now, you may begin to notice that more and more people from within your business need to engage with your customers via social media and other online platforms. That means that your social media manager is not the only person who may need to analyze or respond to mentions.
So, while it is beneficial to have someone dedicated to building your social media management strategy, you'll want other employees to have these management skills as well.
Here are some extra skills you may want a social media manager to have to advance your social media management strategy company-wide:
Knowledge of Social Aesthetics
Written Communication
Customer Service Skills
Basic Marketing or SEO Skills
Pro Tip: Do notice that there is a difference between a social media manager and a community manager and there are many, many job titles for both positions. It's best to ask candidates to demonstrate that they have the analytical AND creative skill set necessary for social media management.
Conclusion
Understanding social media management is a necessary step to a holistic approach to social media marketing. It's no longer enough to hire a fresh graduate to manage your Facebook account. Now, you need to listen to the whole conversation.
The only way to get the full picture of what people think of your brand is to make sure you're listening everywhere and drawing conclusions from overarching insights. And at the end of the day, you probably will feel like you have a super power.