Travel agencies are dead, long live social media.
No one uses travel agencies to book trips anymore, right?
Why would you when you can book your own plane tickets, rental cars, and Airbnb flats online? Why would you when Instagram and Pinterest tell you where to go?
But what if travel agents could join the party? What if all it took was being on social media too?
Well, many travel agencies are finding that a strong social media presence is the way to go. Whether it's on Facebook, Instagram, Pinterest, or all three.
Strong social media marketing for travel agents is all it takes to get the show on the road. And it's easy.
It's the same as traveling – all you have to do is find someone to help you know where to go and how to get there.
That's why this article will show you:
The 5 best social media marketing networks for travel agents.
How to implement social media marketing strategies for your agency.
How to use social media management and social listening to your advantage.
Social Media Marketing for Travel Agents – The 5 Best Social Networks
The first thing you're going to want to do is to come up with a unique social media marketing strategy for you. Here are some things that you should consider in the beginning:
How many social media networks do you have the time and money to run?
Where is your audience and which social media networks should you choose?
How often can you schedule posts and do you need tools to help you?
How will you integrate all of your social media channels and your website?
How do you want to tackle a social media marketing advertising strategy?
How important is social media management and which tools do you want to use for it?
Which Social Media Platforms are the Best for Your Travel Agency?
A word of advice. If you've only got the time and money to run one social account on top of running your business, go for Facebook. The social network will give you the greatest variety of engagement opportunities, access to the biggest audience, and integration with a ton of free marketing tools.
Here are the top 5 social media platforms that are necessary for travel agencies:
Facebook
Instagram
Pinterest
Twitter
LinkedIn
Facebook Social Media Marketing for Travel Agents
Social media marketing for travel agents should start with Facebook. Think of Facebook as your home base. It's there that you will want to secure fans, add photos, promote content, handle customer service queries, interlink your social accounts, advertise, and create events and competitions.
Here's an example of social media marketing for travel agents on Facebook:
TUI is the world's largest travel and tourism agency. So, it may not come as a surprise that they're doing well. But here's how.
In a recent Facebook ad campaign for Nordic TUI, the travel agency used video, carousel ads, and link ads, resulting in a 55x return on ad spend. The return was 89x for Swedish travelers. Facebook recognized TUI as one of the best performing travel agencies on the network.
And it's not just about having the right advertising strategy. For example, TUI knows that it's Nordic customers go to Facebook first, so they provide them with plenty of great content. You can use a social media management tool to find out where your customers are – more on that later.
Instagram and Pinterest Social Media Marketing for Travel Agents
Next, it's best to join at least one photo-sharing site. In an ideal world, you should have a presence on both Instagram and Pinterest, as the two sites are fundamentally different. But an account on any image-based site is important because the travel industry is photogenic.
Plus, there is a unique connection between travelers and these sites. For example, a study by Schofields Insurance revealed that 40% of Millennials choose a vacation destination based on how Instagrammable it is. Millennials make up the majority of market consumers.
Here's an example of a social media marketing for travel agents on Instagram:
As you can see, SmartFlyer has over 19.9k followers and knows how to take great pictures. Having a strong Instagram following is good for business as 80% of Instagram accounts follow a business and 30% of users buy something they first saw on the platform.
Plus, over 120 million Instagram users visited a website, got directions, or called, emailed, or direct messaged a business because of advertising.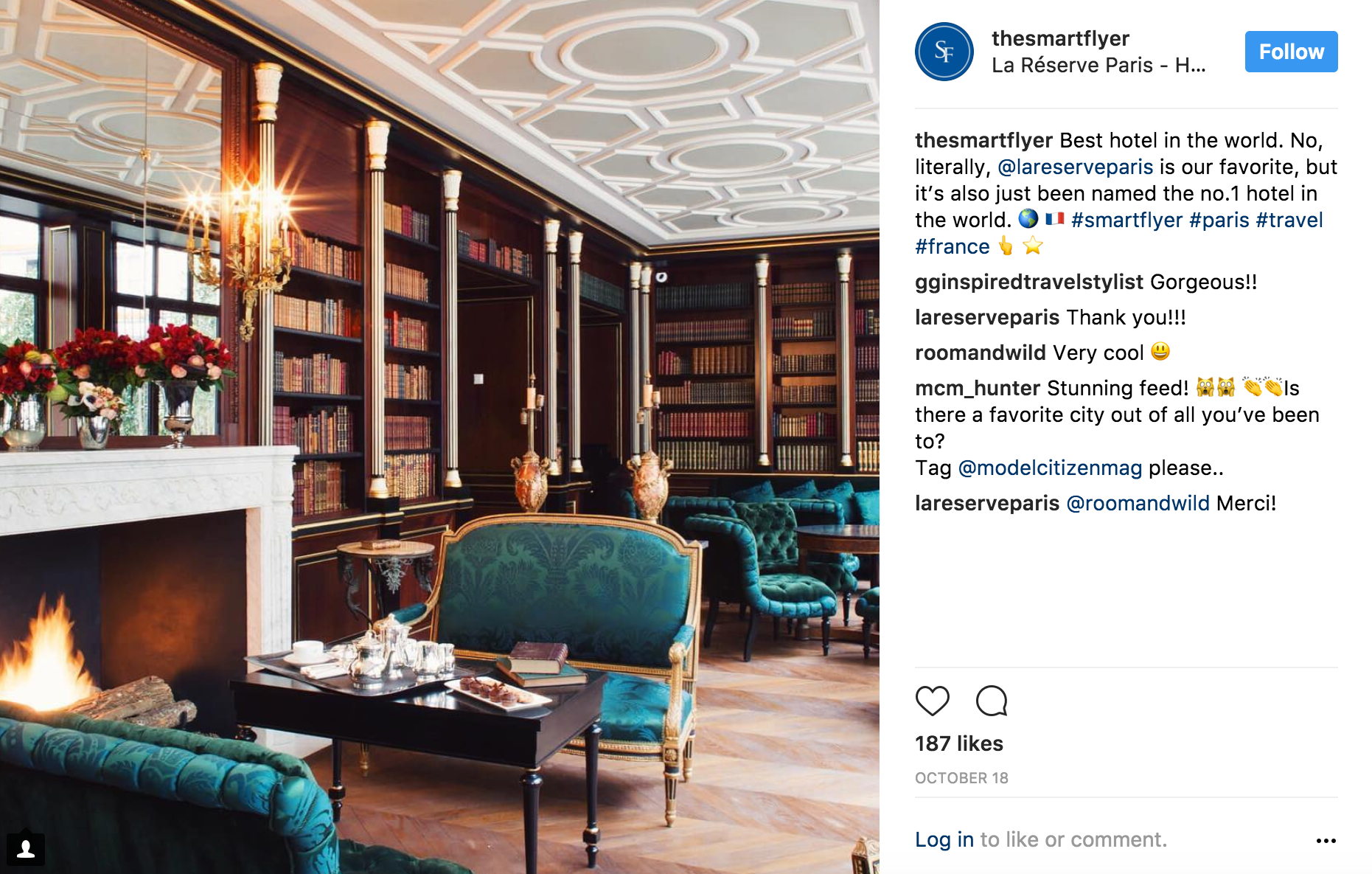 Here's an example of social media marketing for travel agents on Pinterest:
Expedia, one of the top earning travel agencies in the world, has almost 50,000 followers on Pinterest and 41 boards. Their boards range from destinations like Europe and Australia to travel topics such as "honeymoons" and "foodie travel."
A good thing to remember is that Pinterest is an aspiration planning site. Unlike Instagram, users aren't sharing pictures of their lives. They're bookmarking pictures that depict how they'd like their lives to be. Whether it's how they want to dress, what they want to eat, or where they want to travel. That's why Pinterest is a great part of social media marketing for travel agents.
Twitter Social Media Marketing for Travel Agents
When it comes to Twitter, you have a few choices. Twitter is great platform for providing dedicated customer service and communicating with your followers. If you're using Facebook or other channels for customer service, it's still a good idea to have personal Twitter accounts.
Use your Twitter account to stay briefed on industry news, keep up with travel trends, follow influencers, and promote your content. Be sure to join conversations by using trending hashtags and adding shortened links to your content.
Here's an example of social media marketing for travel agents on Twitter:
As you can see, Orbitz has a ton of followers and cheeky copywriting. Plus, they link to their service and help page to reroute customer service queries back to their website.
You don't need to have a large corporate Twitter account like Orbitz if you're starting out small. Alternatives include creating a dedicated customer service Twitter account or creating a personal Twitter account and linking back to your website or other social media accounts.
For example, KLM runs a Twitter account that keeps travelers updated on important information through tweets and provides them with customer service through private messaging. Yes, KLM is a large airline with the capacity to provide customer service in 10 languages. But their hybrid approach to Twitter is achievable on a smaller scale.
LinkedIn Social Media Marketing for Travel Agents
Finally, LinkedIn is a great way to become a thought leader in your industry, to run recruitment campaigns when you're hiring, and to network with important people.
Besides, the site is for professional working people. And working people have vacation days and take business trips. Not a bad place to post enticing images and content that shows how nice it is to go on vacation and get away from it all.
Here's an example of social media marketing for travel agents on LinkedIn:
Other Social Media Marketing Options for Travel Agents
You may also want to consider Youtube. Why? Consider the fact that video will account for 82% of all consumer Internet traffic worldwide by 2021. Plus, video brings travel locations alive. There are plenty of free tools to help you make videos, and you can share your videos on Facebook and Instagram as well.
Here's an example of social media marketing for travel agents on Youtube:
Here, CruiseOne made a video that takes you on a tour of the Royal Caribbean Oasis of the Seas cruise ship. The video has over 500,000 views and the travel agency has almost 2k subscribers. Plus, they can post the video on their website and other social media channels.
Pro Tip: The more integrated your content, the easier it is for users to engage. That's why you should interlink all your social accounts and your website. Also, place sharing buttons in strategic places on your website. For example, place Pinterest share buttons next to images.
Ready to get started on your Facebook Business Page? Need some tips on how to set things up? We've got you covered: 7 Simple Tips to Optimize Your Facebook Business Page
How to Use Social Media to Market Travel as an Agency
Now you know where you're going to post and how many resources you have. But what does social media marketing for travel agents look like in action? Here are some ideas for you:
Stay on top of hot trends and vacation spots.
One way to stay on top of hot trends is to follow influencers, and Instagram has a ton of them.
There are some already established influencers such as Brian Kelly, whose influence comes from sharing tips on how to get the most out of travel reward cards, and Murad and Nataly Osmann, who are famous for the #followmeto project: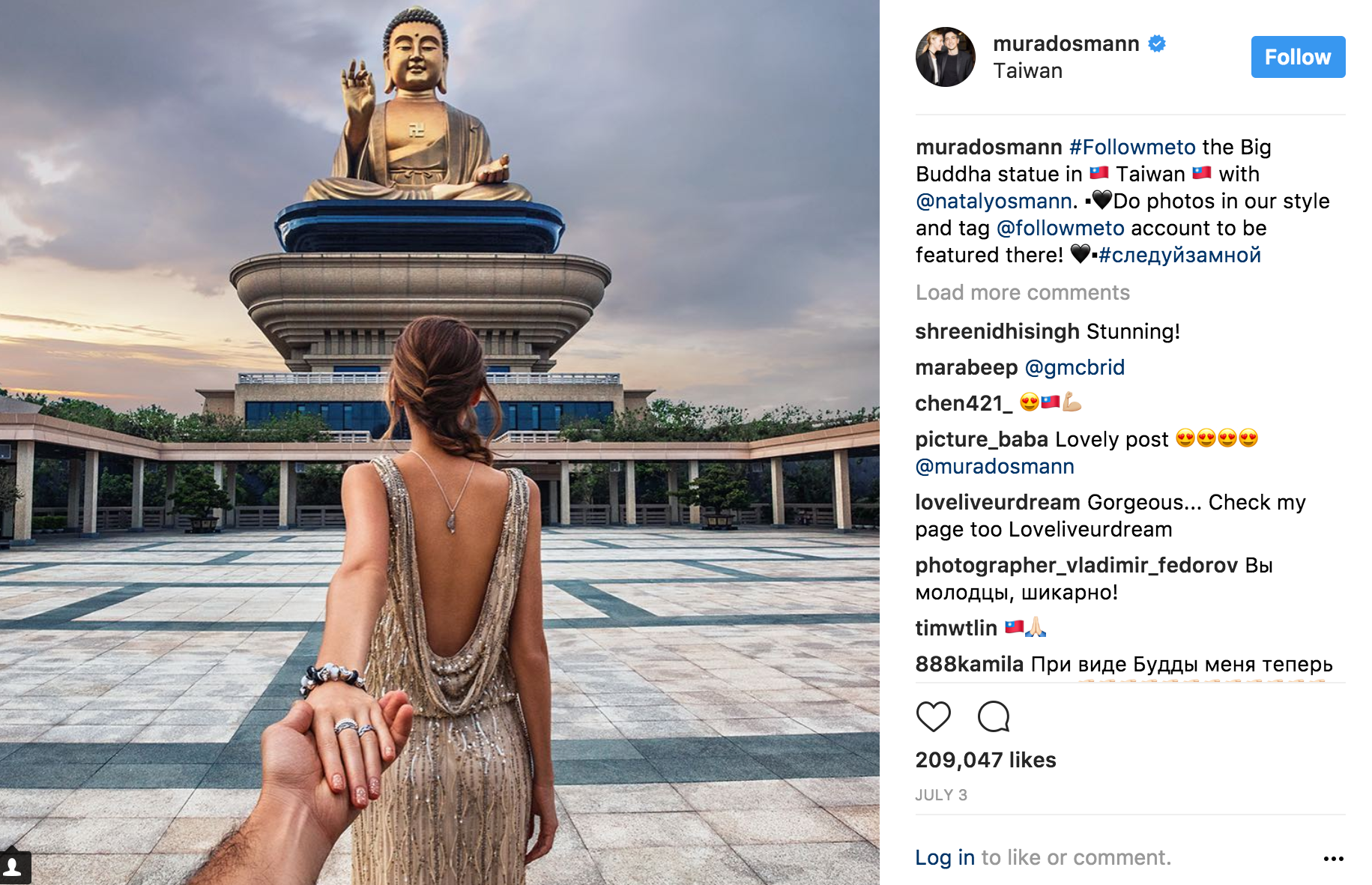 Why should you pay attention to influencers?
Exhibit A: In 2015, a small community in New Zealand invited influencers to come for a visit. The result was a 14% increase in tourism for Wanaka – the biggest jump in the country. All because some Instagrammers came and took pictures.
That's in part because Instagram users are some of the most engaged social media users – 10x more than Facebook users for example. And many people are now choosing destinations only to recreate images they find on Instagram.
Social media marketing for travel agents is also about engaging with influencers who talk about trendy topics. To find such influencers you'll want to use a social media management tool.
Let's say you read on Lonely Planet that Seville, Spain will be the top city to visit in 2018. By plugging "Seville" and "travel" into a social media management tool, you can find out which influencers are talking about traveling to Seville.
Here's what it looks like in action:
Here you can see that Instagrammer Kenny Powers has the greatest reach and estimated ad equivalent for his posts about Seville. Here's one of his posts:
Just from this post, you can see that Plaza de España is a beautiful Instagram location. You can see which hashtags might be trending and follow them to see where they take you. Plus you can follow and engage with influencers like Kenny, which may lead to a collaboration or a sale.
Spread the word about promotions and deals.
Put your social media accounts to good use by spreading the word about your deals and promotions. You can use any of your accounts to inform customers about deals.
Celebrate with @SunscapeResorts and save up to 50% + get up to $400 resort coupons and kids stay free in the fall! https://t.co/TTnBrwbC9G pic.twitter.com/bSwqTGHV5e

— Expedia (@Expedia) November 1, 2017
Also, it's worth it to note that Millennial travelers are now into experience traveling. Social media marketing for travel agents can start with posts about deals, discounts, and promos. But giving your customers access to experiences provides added value and extra incentive to book a trip.
For example, with the introduction of Trips, Airbnb added bookable experiences in 12 cities worldwide. In September 2017, the addition of experiences for New York City marked Airbnb's entrance into its 40th market. Airbnb says that 13x more guests use experiences than home rental, the primary function of the website.
Hold sweepstakes and run contests on social.
Facebook is a great platform for conducting contests or sweepstakes. There are also some free social media marketing tools for Facebook that you can use to help you choose winners and run contests. You can also use Twitter or Instagram.
Here's an example of a give away that Expedia had via chat on Twitter:
4 hours until #ExpediaChat! We're giving away 2 round-trip tickets on @aeroflot + a $500 Expedia travel voucher: https://t.co/tE7mNRkUtR pic.twitter.com/NYlCylcgiM

— Expedia (@Expedia) November 15, 2017
Crowdsource images and promote user-generated content.
User-generated content can take social media marketing for travel agents to the next level. That's because the travel industry is perfect for user-generated content. Think about it. When do people take pictures? Well, with the advent of smartphones some people take selfies nonstop.
But most people photograph important life events like births, weddings, and graduations. And most people still take tons of pictures on their vacations. Plus, the big influencers, such as photographer Kirsten Alana, dedicate their social accounts to nothing but travel photos.
But why would you want to retweet or share so-and-so's vacation pictures? Research shows that Millennials (aka most consumers) trust user-generated content above all other forms of social media marketing for travel agents. Plus, 53% say user-generated content influences their purchasing decisions over traditional media or banner ads.
But how do you put great user-generated content to good use?
To begin, find content that you can share. You can share images, reviews, or positive feedback from customers. You don't have to share influencer content. But you can find micro-influencers by using social media management tools.
You can also create photo contests where your followers send you images of their vacations. The key is to give credit to the owner after featuring content on your social channels or website.
FA Thailand festival of Lights #expediachat #sweepstakes pic.twitter.com/8yqWpLfvZo

— Christy G (@joell51868) November 1, 2017
Push your blog content, add reviews, and curate great travel content.
Having a blog with travel related content is a great way to generate traffic for your site and to have content to share with your fans and followers. So, let's say you do have a blog.
Your social media marketer (or you) and your content manager should coordinate posts. That's why it's a good idea to have a free workflow tool like Trello to schedule content. Social media marketing for travel agents can also involve community management and comment mitigation.
Let's say you don't have a blog. You still need to share content on a regular basis across all your social media profiles. Not posting is one of the best ways to lose touch with your audience. You need to post on a regular basis and that's hard when you don't have content.
One way to fill in the gaps is to curate and share related content from your industry. For example, link to travel blogs with relevant content, tips, and images. At the end of the day, all you need to do is know your audience and get creative. It's also a good idea to check out your competition. Here are some ideas for curated content:
Articles on Hot Spot Locations
Travel Tips and Warnings
Packing Tips and Local Fashion
Travel Guides and Must See Lists
Unique Hotels and Accommodation
Bucket Lists and Dream Vacations
You can also curate content when you do have a blog. It's good to share or retweet excellent content that you know your audience will love. Make sure you follow content managers, travel bloggers, influencers, and industry publications.
Pro Tip: Pinterest is a great place to create content. Social media marketing for travel agents on Pinterest starts with unique boards featuring packing tips, bucket lists, or food. Add beautiful images with great descriptions and then link back to your website or relevant, curated content.
Use Periscope or Facebook Live to live stream content.
Video is where it's at, and live streaming content is the new hot thing on Facebook. All you need is knowledge about how and when to stream and a creative idea about what to show. Here are 7 ideas for live video content:
Cruise Ship Tour
City Tour
Hotel Review
Food Experience
Museum Tour
Street Performance
Local Event or Festival
Pro Tip: Before making a video, make sure you're prepared. Write a script or scenario, check your cameras and lighting, and make sure that your team knows their roles. Live streaming is great because it shows relevant things happening now. The downside is that you can't edit.
Not sure how to use social media to do market research? Need tips on how to research your brand or competition? Read our guide: How to Use Social Media for Market Research
Why You Also Need to Understand Social Media Management for Travel Agents
Social media management and social listening is the next level of social media marketing for travel agents. Social listening involves collecting all mentions including a keyword or topical phrase and analyzing them for trends and patterns.
You can use social media management to track your brand, research trending topics, find influencers, and get a better understanding of your audience. Let's go back to our Seville example. Not many people are mentioning Seville in social comments:
But let's say you want to run a promo on trips to Seville in 2018. How can you use your social media management tool to help you out in the meantime? Here's a sample of the kind of information you can gather:
Where travelers are posting.
Which hashtags they're using.
Who is trending as an influencer and where.
What the sentiment is toward the topic and why.
What people are saying and sharing.
Who you can tap for user-generated content.
Where commenters are located.
For the keywords "Seville" and "travel," we can see that most posts are coming from Facebook and Instagram. Knowing where users are posting gives you an idea of where to reach your audience.
Popular Instagram hashtags are #seville, #spain, #travel, and #wanderlust. Using similar hashtags gives your content greater reach. Social media marketing for travel agents on Twitter also includes finding and using popular hashtags.
Plus, the content above is the type of user-generated content that you can share and promote. Or you can check out your list of influencers for power users across different social platforms. Again, here is our list of influencers:
The sentiment for this topic is over 40% positive and less than 10% negative. Taking a more in-depth look, you can see that some of the negative comments are coming from unhappy customers who experienced a run in with bed bugs and bad customer service.
Social media marketing is the first step for travel agents. But social media management and social listening activities are necessary for any business that wants to stay ahead of the game.
Pro Tip: Loyalty points can encourage positive reviews and posts from influential users. In turn, positive posts about loyalty benefits incentivize others to join. It's much cheaper to maintain customers than it is to find new ones. Just remember that it is illegal to force an exchange.
Not sure how to get started with social media management? That's okay, we've got you covered. Read our guide: The Complete Starter Guide to Social Media Management
Conclusion
While some may say that "travel agent" is a dead profession, that's not quite true. Yes, social media and the Internet have made it easier for some to book trips solo.
But now it's also easier for you to find potential customers and engage with them. All you need is to do is engage in social media marketing for travel agents.
Decide where to start, make great content, share user-generated content, and stay on top of trends. Once you find the right balance, you'll be well on your way to giving your customers the vacations of their dreams.